I watched part of his interview with Ann Curry on the Today show this morning but had to leave for work before the above question was answered.
And what I want to know is why Angie let that caterpillar grow on his upper lip?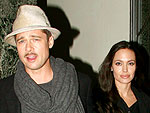 Because, while I don't entirely agree with the falling for Angelina while still married to Jen, I think he's a pretty decent person (or maybe I've just fallen for the spin), only now he looks like I imagine a 70's porn star would. That's just disturbing, and not at all hot.
Image from People.com